Blog
Tuesday, 24 January 2023 00:00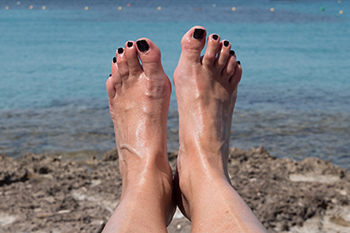 The more you know about the biomechanics of the feet, the more you become better equipped to understand how to care for the feet. One critical component of how the feet function concerns the skin on the feet. The skin on the feet can often become dry for several reasons, as opposed to other areas of the body. Most importantly, the feet tend to have a smaller total amount of oil glands. As a result, the skin on the feet might feel slightly more dry or cracked. Additionally, the skin on the feet may be especially dry or cracked because the feet are more susceptible to the usual wear and tear that comes with walking and running. Undoubtedly, the skin on the feet is unique and requires extra special care. If you are someone who wants to learn more about the feet, contact a podiatrist today.
If you have any concerns about your feet, contact Elliot T. Udell, DPM from New York. Our doctor can provide the care you need to keep you pain-free and on your feet.
Biomechanics in Podiatry
Podiatric biomechanics is a particular sector of specialty podiatry with licensed practitioners who are trained to diagnose and treat conditions affecting the foot, ankle and lower leg. Biomechanics deals with the forces that act against the body, causing an interference with the biological structures. It focuses on the movement of the ankle, the foot and the forces that interact with them.
A History of Biomechanics
Biomechanics dates back to the BC era in Egypt where evidence of professional foot care has been recorded.
In 1974, biomechanics gained a higher profile from the studies of Merton Root, who claimed that by changing or controlling the forces between the ankle and the foot, corrections or conditions could be implemented to gain strength and coordination in the area.
Modern technological improvements are based on past theories and therapeutic processes that provide a better understanding of podiatric concepts for biomechanics. Computers can provide accurate information about the forces and patterns of the feet and lower legs.
Understanding biomechanics of the feet can help improve and eliminate pain, stopping further stress to the foot.
If you have any questions please feel free to contact our office located in Hicksville, NY . We offer the newest diagnostic and treatment technologies for all your foot and ankle needs.
Read more about Biomechanics in Podiatry
Tuesday, 17 January 2023 00:00
A twisted ankle, or an ankle sprain, leads to overstretching or tearing of a ligament around the ankle. Ankle sprains make up 85% of ankle injuries. Such sprains usually occur from a sports injury, walking or running on uneven ground, or wearing high heels. Sprains can recur, so making sure to heal properly from a sprained ankle is important. If an ankle twists suddenly, it can force the foot outside its normal range of motion and place stress on the ligaments. When stretched beyond its normal limits, the ligament can start to tear. Torn ankle ligaments are most likely to occur in those under 30 years of age, regardless of gender. There will be mild to significant pain, swelling, and bruising depending on the severity of the sprain. The ability to walk will also be related to the grade of the sprain incurred. If you are having ankle pain after twisting your ankle, see a podiatrist for a proper diagnosis and treatment options.
Ankle pain can have many different causes and the pain may potentially be serious. If you have ankle pain, consult with Elliot T. Udell, DPM from New York. Our doctor will assess your condition and provide you with quality foot and ankle treatment.
Ankle pain is any condition that causes pain in the ankle. Due to the fact that the ankle consists of tendons, muscles, bones, and ligaments, ankle pain can come from a number of different conditions.
Causes
The most common causes of ankle pain include:
Types of arthritis (rheumatoid, osteoarthritis, and gout)
Ankle sprains
Broken ankles
Achilles tendinitis
Achilles tendon rupture
Stress fractures
Tarsal tunnel syndrome
Plantar fasciitis
Symptoms
Symptoms of ankle injury vary based upon the condition. Pain may include general pain and discomfort, swelling, aching, redness, bruising, burning or stabbing sensations, and/or loss of sensation.
Diagnosis
Due to the wide variety of potential causes of ankle pain, podiatrists will utilize a number of different methods to properly diagnose ankle pain. This can include asking for personal and family medical histories and of any recent injuries. Further diagnosis may include sensation tests, a physical examination, and potentially x-rays or other imaging tests.
Treatment
Just as the range of causes varies widely, so do treatments. Some more common treatments are rest, ice packs, keeping pressure off the foot, orthotics and braces, medication for inflammation and pain, and surgery.
If you have any questions, please feel free to contact our office located in Hicksville, NY . We offer the newest diagnostic and treatment technologies for all your foot care needs.
Read more about Various Causes of Ankle Pain
More...